Support IdahoPTV and Mister Rogers This November
Raised: $2020.00
Goal: $4,000.00
'You've made this day a special day, by just your being you. There's no person in the whole world like you, and I like you just the way you are.' –Fred Rogers
As seen in the video below, Fred Rogers was a passionate supporter of public television. Not only did he fight (and win!) for its budget, even years after his death he is still one of the most prominent and influential figures in public media history. It took only six minutes to convince the subcommittee chairman, Senator John Pastore, of his strong belief in the power of public television and the impact it can have, especially in regards to children's social and emotional intelligence. During the month of November, IdahoPTV is remembering Mister Rogers and we hope that you'll join us in honoring the passions of one humble man dressed in sneakers and a sweater by making a gift today.
Whether you're donating in honor of a loved one, donating in remembrance of Fred Rogers, or donating just to be a good neighbor, we invite you to leave a comment with your pledge to share in the joy he has brought to the world, and celebrate all things Mister Rogers.
Donate For These Thank You Gifts
A friend to many, Mister Rogers was an iconic figure who instilled self-worth, kindness and generosity. Remind yourself every day of the great things you're capable of when you wear this adorable 'Love Your Neighbor' handmade enamel pin.
"The World According to Mister Rogers" Book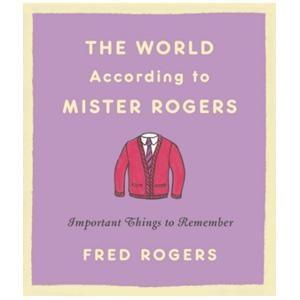 An inspiring collection of stories, anecdotes, and insights culled from Fred Rogers' speeches, program transcripts, books, letters, and interviews, along with some of his never-before-published writings, The World According to Mister Rogers reminds us that there is much more in life that unites us than divides us.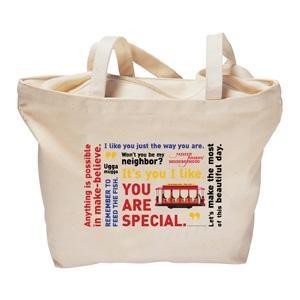 Every day will be a beautiful day when you sport this 12 oz. cotton canvas tote featuring a zippered top, shoulder straps and classic quotes from Mister Rogers along with a colorful image of the iconic Neighborhood Trolley!
Mister Rogers Color Changing Sweater Mug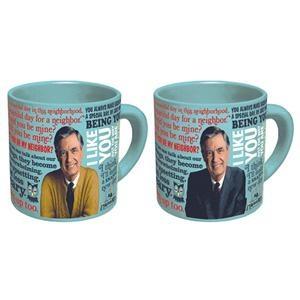 This friendly Mister Rogers Sweater Changing Mug features favorite Mister Rogers quotes, song lyrics, and images from the Neighborhood of Make-Believe. When you add hot water, Mister Rogers changes from a suit jacket into his cardigan, ready to make it a snappy new day! Holds 14 oz. Transforming mugs are microwave safe, but not dishwasher safe.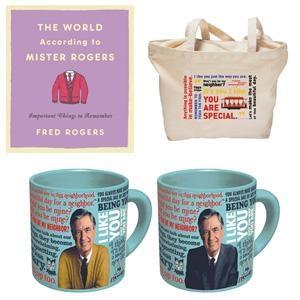 Includes zippered trolley tote, color changing mug and "The World According to Mister Rogers" Book.
Thank You for Your Support!
For assistance or more information about supporting Idaho Public Television, please contact:
Donor Services
Idaho Public Television
1455 N Orchard St
Boise ID 83706-2239
(208) 373-7220
(800) 543-6868
Fax: (208) 373-7245
E-mail: donorservices@idahoptv.org
The Friends of Idaho Public Television is a 501(c) (3) charitable organization, and accepts tax-deductible donations designated to support public television programs, initiatives and productions. Contributions may also qualify for the expanded Idaho Education Tax Credit. Idaho Public Television does not sell or rent your personally identifiable information with non-affiliated third parties for their own purposes. View our Privacy Policy.