During the state's legislative session, the Idaho Reports staff turns a spotlight on the important issues affecting all Idahoans. The half hour program is the longest-running public policy show in the West.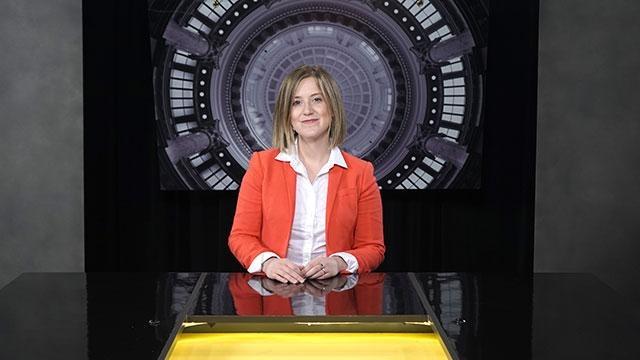 Host Melissa Davlin comes from the world of print news. She studied English at the University of Idaho and put those narrative skills to work at the Twin Falls Times-News. Davlin has covered the Idaho Legislature since 2012, breaking major stories and keeping the residents of Idaho informed and engaged with their legislature. She believes in making Idaho politics more accessible to citizens while providing historical perspectives and in-depth analysis on big-picture implications.
In 2011, Davlin spearheaded a project on Bhutanese refugees who resettled in Idaho. While in Nepal, she interviewed refugees, aid workers and government officials about the plight of the Bhutanese. She visited three refugee camps and followed the resettlement of several families from the plains of southeast Nepal to Idaho's Magic Valley. She also covered the 2010 deployment and subsequent return of the Idaho National Guard 116th Cavalry Brigade Combat Team, following families through the process of preparing for deployment and the transition back to life at home. Davlin has received multiple awards for her work, including the 2015 Broadcast Reporter of the Year from the Idaho Press Club.
Betsy Z. Russell covers Idaho news from the Boise bureau of the Idaho Press-Tribune. Her "Eye on Boise" blog offers up-to-the-minute news and happenings from the state capital throughout the year - it is one of the must-have bookmarks for any politically-minded person in the Intermountain West. She is the longtime president of the Idaho Press Club and has worked with journalists, state officials and others to preserve and improve openness and access in government.
Kevin Richert is senior reporter with Idaho Education News (idahoednews.org), an independent news site focusing on coverage of K-12 and higher education and state politics. He joined Idaho Education News at its launch in January 2013. He is an award-winning reporter and editor who has worked in Idaho journalism since 1985.
Kevin has worked on in-depth reporting projects with Idaho Public Television, including a project on four-day schools in Idaho. This series received the Idaho State Broadcasters Association's 2016 award for investigative reporting.
Kevin received his bachelor's degree in journalism from Northwestern University and a master's degree in public administration from Boise State University.
Director Troy Shreve has worked at Idaho Public Television since 2014. He splits his time between Idaho Reports, Dialogue, Idaho Experience and promotional spots for IPTV. Shreve attended Boise State University and spent time shooting and directing commercials.
Executive Producer Bruce Reichert comes inside from his glamorous and adventurous Outdoor Idaho lifestyle every once in a while to make sure everything is running smoothly.