Salmon River Lodges and Legacies
The Salmon River flows through the heart of Idaho, weaving a legacy of beauty and history through the landscapes it passes. This is the river that turned back Lewis and Clark and for decades was visited only by a few hardy pioneers and explorers.
Today thousands of people float the Main Salmon River each year. From the Corn Creek launch ramp, boaters embark on a trip that will carry them through one of the deepest canyons in the country. Here the Salmon flows through vast wilderness areas that sprawl for over five million acres. And sprinkled amidst this natural beauty are dozens of historic locations with stories of the pioneers and prospectors who found their way to this remote canyon.
Outdoor Idaho explores some of the Salmon River's remarkable spots and legendary characters as we journey by raft and jet boat to rustic lodges and other landmarks on the river. Along the way we'll meet some of the people who are continuing the legacy begun by the early pioneers of the area. It's a unique adventure that showcases why the Salmon River is one of the gems of Idaho.
Salmon River Lodges and Legacies
Travel by raft and jet boat down the Main Salmon River to rustic lodges and other landmarks.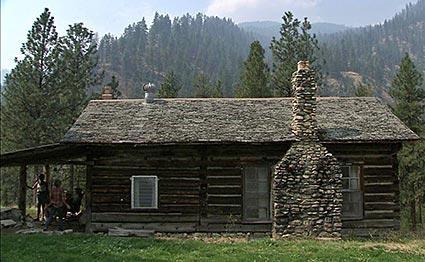 ---
In 1981, Wayne Johnson, a partner in Barker-Ewing River trips started guiding rafters on multi-day river trips on the Main Salmon River in Idaho. After twenty years on the river Johnson bought out his partners for the Idaho segment of the company and changed the name to the Salmon River Rafting Company. Later he started specializing in "lodge to lodge" trips on the river as part of his other annual offerings. Johnson has now been guiding on the Salmon for over three decades and has come to think of the river as his second home.
"I'm not sure I looked at this and said this is what I want to do for the rest of my life. I think it's something that grows on you. If you learn about the area and you meet the people, it's hard not to be attracted to an area with people this good and a history this recent… Over the years I've developed friends with the people who live here. This is my home. My residency is not on the river but I feel at home any time I pull into a place. If I had to choose one river it would be this one"
--Wayne Johnson, Salmon River Rafting Company
This is the lodges' second location on the river. The original facility was put together by Don and Clyde Smith in 1937 near Big Squaw Creek. Norm Guth bought the place in 1968 and at the request of the Forest Service moved it about a mile downstream to a spot on Smith Gulch. There was already an old prospector's cabin there and that building is now on the National Historic Register. The lodge is operated under a Forest Service permit so it has to be run a little differently that some of the lodges on private ground.
Kevin Yeates bought the lodge four years ago after spending many years hunting and fishing in the canyon.
"In the years that I've been coming I had the chance to fish at China Bar. I've also fished with the Arctic Creek Lodge and also with the Watts that owned this-Whitewater West it was called then and also at Salmon River Lodge. And they're all beautiful places but I just thought to myself with that nice yard and the scenery here it was the place I thought in my mind that boy, if I was ever going to own something down here, this would be the place. It's awesome. I wouldn't trade it for the world. Now, it's probably a little more than expected. It's more work, it takes more time that I ever thought it would probably times two but worth every minute. I can't think of a better place to be. If this isn't heaven I don't want to go."
--Kevin Yeates, owner River of No Return Lodge
Whitewater Ranch is a large piece of private property along the river. It covers one-hundred nineteen acres and includes many buildings, springs, and an intricate hydro-power system.
The ranch was originally homesteaded by Eugene Churchill who had a mining claim in the area. In addition to prospecting Churchill supplied vegetables and meat to miners and local communities. After his first house burned down he replaced it with a two-story log building still in use today. Unfortunately, Churchill later drowned in a river accident.
Owner Steve Shotwell bought the historic property with family members after finding it in a real estate brochure six years ago. He and his wife Kathy have worked hard to improve the place and get it in great condition.
"Really, it's the lifestyle of the back country that grows on you and it's hard to get out of your blood once it gets in. I feel like kind of the newcomer of the canyon and have a lot of regard for the guys who have been here for a long time. I try to learn from them and hear their stories. Yeah, I hope to be called an old timer someday back here."
--Steve Shotwell, co-owner Whitewater Ranch
Campbell's Ferry is a beautiful piece of property above the river that was homesteaded by William Campbell. He ran a ferry that helped thousands of miners cross the river on their way to the Thunder Mountain area. Warren Cook built the historic cabin that still stands at the location in 1906 after Campbell's original cabin burned.
One of the most well known residents of the property was Frances Zaunmiller who came into the area from southeast Texas. She lived here for many years and was instrumental in helping to get a bridge built that spanned the Salmon River at the location of the old ferry.
Doug and Phyllis Tims are co-owners of Cambells Ferry who offer tours and a history lesson for visitors. They are spending their retirement years helping to maintain and restore this historic spot.
"As you get older you want things to slow down, to slow down the pace of your life and what better way to do it than to connect here with the basics in a place that everything has slowed down. When William Campbell came here in 1897 he came to a place where everything moved at the speed of a horse and just to slow things down and make the small important things in your life important again."
--Doug Tims, co-owner Campbell's Ferry
"It connects me to my own heritage. I think about my grandparents and how they lived, my great grandparents. All of us at some point had people in our lives who lived something like this. And it's really meaningful to me. I love to sit and think about how they would feel about my living here."
--Phyllis Tims, co-owner Campbells Ferry
China Bar began as a patented mining claim that got its name from Chinese gold miners who spent a couple years on the bar reworking the property after white settlers had moved on.
Later, in the 1930s Clyde and Don Smith picked the location as one of their bases for Salmon River Tours. Don's son Bob continued the outfitting business for many years at this location.
Then in 1981 Mike McLain started learning the ropes with Bob Smith's guidance. He took over the business eight years later when Smith retired. McLain has now been working out of China Bar for more than two decades.
"The one thing I guess I need to keep in mind is why I left a good job and came here. You've got to trade riches for riches. There's richness in living here and doing this that money can't buy. It's living in the fountain of youth here really. Most people don't believe I'm as old as I am so I live in the fountain of youth. So I've got to credit the river for that."
--Mike McLain, co-owner China Bar
Five Mile Bar is the former home of one of the Salmon River's most famous residents. This is the location where Sylvan Hart, better known as Buckskin Bill carved a life for himself out of the wilderness. Hart first came here in 1929 and lived out his life on the property. In all, Buckskin Bill spent fifty years on the Salmon River.
The property is now looked after by a colorful couple who've been here a long time themselves. Heinz and his wife Barbara have spent three decades on the Salmon. They first came to the canyon in 1981 and got the job caretaking Buckskin Bills place a few years later.
In the 1990s they were able to buy one of the lots around Buckskin's place where they built their own house. They also created the Buckskin Bill Museum and Store. In addition, Heinz began guiding river trips, and driving a jet boat and eventually bought an outfitting business from long-time guide Zeke West. Like Buckskin, they've made a life for themselves on the Salmon River.
"We never had the opportunity to meet Buckskin when he was still alive but over all these years we met a lot of people who had an experience with Buckskin. I think he was a great man. Look at it. He came in here sometime 1929, 1930 and he lived and stayed here and made a living and survived in the wilderness doing everything himself. Now I don't think we're doing the same thing but I think we're not too far away, he's right there. He's present. So for us taking care of what is left over that he created is really an honor."
--Heinz, co-owner Five Mile Bar
Mackay Bar is one of the most well known spots on the river. It was once a prime winter camp for Native Americans. The first white settler, William B. Mackay arrived around 1900. Cattle and mining operations were another part of its early history but by the mid 1950s Mackay was on the way to becoming a well known guest ranch. The man that spearheaded the transition was outfitter Al Tice.
Half a century later new owners Don and Andrea Betzold are working hard to keep the Mackay tradition alive. They appreciate the history of the place and are looking forward to being part of the Salmon River community.
'I feel fortunate to be part of the history of Mackay Bar. I think there were some great people who came before me and if I can live up to that legend I'll just be happy. That pretty much sums up why I'm here. I just wanted to be part of it."
--Don Betzold, co-owner Mackay Bar
"Everybody knows Mackay Bar. Everybody you talk to has some kind of relationship with Mackay Bar, either somebody worked for them or they stayed there or something. So when you talk about Mackay Bar everybody knows what you're talking about, where you're talking about. So it's like we got to sneak into a little piece of history being owners of Mackay Bar."
--Andrea Betzold, co-owner Mackay Bar
Shepp Ranch is another legendary Salmon River lodge. Native Americans wintered here before it was inhabited by white people. Around 1872 a white miner named Malick who was supposedly married to a Nez Perce Indian homesteaded the property. Later a man named Copenhaver built a large barn on the ranch that still stands.
But it was Charlie Shepp and Pete Klinkhammer who had the longest association with this place. Shepp and Klinkhammer were two miners who bought the property around the turn of the century. They built the log portion of the main lodge that stills stands at the ranch.
After Shepp died, Klinkhammer sold the property to Paul and Marybelle Filer who helped turn it into a successful sportsman lodge. Jim Cambell and other owners continued to improve and develop the ranch with the help of long-time managers Mike and Lynn Demerse.
This is now the 30th season Mike and Lynn have been managing Shepp Ranch and both began working at Shepp several years before that. In fact, they met and married while working for the ranch.
"I came here two days after my 20th birthday so I haven't really done anything else and I guess that's what Shepp Ranch means, it's my life. We both love to do it. We've never not been part of Shepp Ranch so I don't know, it's just what we do."
--Lynn Demerse, co-manager Shepp Ranch
"It's my home. It's my life. I've lived here longer than I've lived anywhere else. I count myself extremely lucky and fortunate that I could be here. I feel very fortunate. My life has worked out very well since I've been associated with Shepp Ranch. I wouldn't trade it for anything. I wouldn't change a single day."
--Mike Demerse, co-manager Shepp Ranch