Learning Ecosystem - Families - Ready to Learn
Ready to Learn - Countdown to Kindergarten & Playing with Purpose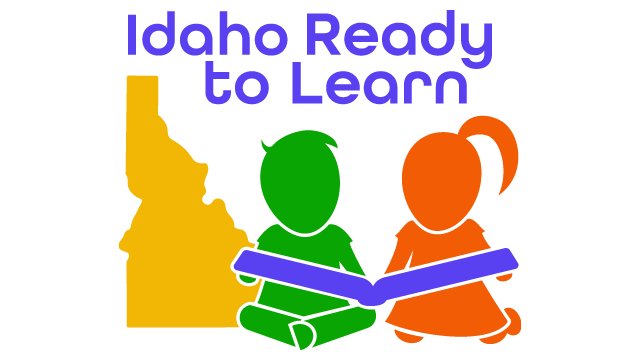 Idaho Ready to Learn: Countdown to Kindergarten is an exciting new program that supports parents of incoming kindergartners. We have weekly calendars full of activities you can do with your child to help them feel excited for all the fun they will have in kindergarten. Each week will focus on a different skill that will be taught in kindergarten. For each skill there are hands-on activities, digital games, and unplugged activities for every day of the week. Our website is a great place to find even more resources to help your child get excited and feel confident on their first day of school.
Idaho Ready to Learn: Countdown to Kindergarten
Join IdahoPTV for a "Countdown to Kindergarten" virtual parent event, June 23 and 24th.
Weekly Calendar - English Language Arts
Check out activities, games, and challenges to help your child get excited for their first day of kindergarten.
The calendar will change each week so make sure to come back and get next week's activities!
Monday
Tuesday
Wednesday
Thursday
Friday
Past Event - June 23 & 24 @ 10:30 am MT
2-day Facebook Live Event for Parents
Join us on June 22nd and 23rd at 10:30 am (MT) for a 2-Day Live Facebook Event for parents of in-coming kindergarteners. During this event, professionals around the state will join to give you important information, tips, tricks, and activities to help you get your child excited for kindergarten. Topics will include academic, social, and motor skills, how to access your public library, and more.

208-333-0008
We work directly with families and with schools and organizations. Our team includes learning specialists, psychologists, researchers and counselors. We also have a training team that works in the field. We have many resources for families, teachers and organizations on our website.
The news section of our website has information about our free virtual preschool parent events. Our products section has links to an app called Go Parents! and more. We have resources for social emotional learning, math and literacy.
208-373-7397
We work with families and educators to bring educational, social and emotional resources and activities to all families.
208-338-4707
READY! for Kindergarten supports parents as they prepare their children for kindergarten with free parent education workshops.
208-342-5884
Idaho Parents Unlimited works with parents, family members, and caregivers of children and youth with disabilities and special health care needs and the professionals who are a part of their lives. While our office is in Boise, we work statewide using technology, and we frequently travel to all regions of the state throughout the year.
IPUL also have a variety of parent resources as well as provider resources.
1-844-IDSESTA (1-844-437-3782)
SESTA provides professional development to teachers and parents so they can support the learning of students with special learning challenges.
We also have preschool resources for parents to do at home.
The resources in this guide are intended to help parents, guardians, and families understand how schools and the state education system are responding to the expanding coronavirus outbreak
Research based practical reading and writing strategies for caregivers.
Extending Vocabulary
You can help your children learn new words and extend vocabulary by simply listening and talking with them every day. Explain new words when doing any activity and encourage words that describe objects and locations such as next to, behind, underneath, or inside.

Read a variety of books so your children can hear different kinds of words.
What is your child's favorite book?
Counting
Have you counted flowers or sticks with your kids? There are learning opportunities everywhere! You can help your child learn to count by touching objects as you count them out loud. Knowing how to count will help your child on the first day of school and all summer long!

What have you counted with your children lately?
Recognizing Print
Knowing some letters on the first day of school will help your children succeed. Point out signs in your neighborhood, on stores, or restaurants to help your children begin recognizing that words are all around us.
Building Routines
Knowing some letters on the first day of school will help your children succeed. Point out signs in your neighborhood, on stores, or restaurants to help your children begin recognizing that words are all around us.






"This project was made possible by grant number 90TP0077-01-00. Its contents are solely the responsibility of the authors and do not necessarily represent the official view of the United States Department of Health and Human Services, Administration for Children and Families."