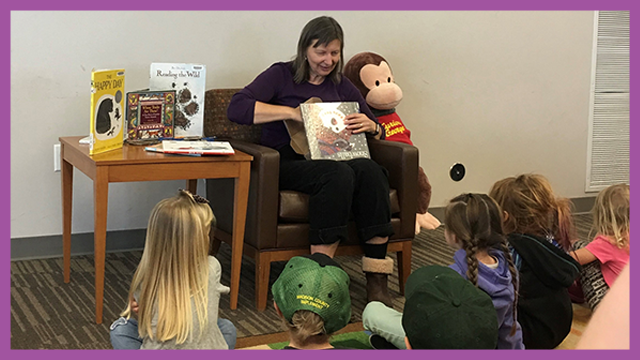 Gina Miller

Rexburg Librarian knows when a program works, is successful, and when it benefits the whole community. IdahoPTV changed story time in this small town.
---
Born and raised in Rexburg, the town has always been Gina's home. Raising her own kids in the city of 28,000 northeast of Idaho Falls, Gina Miller has invited Idaho Public Television's community educators to the library for years.
Gina does storytime with her community each week, usually about 20 kids and families show up, but when IdahoPTV steps in to do storytime she sees more than 60 participants attending each month.
"There are no other programs like this, the storytime experience was unique because it was focused on STEM for preschool kids" Miller says.
Based on Idaho Public Television's in-person activities, Miller has created STEM activities for older students. "As a public library, we have such a small budget and we would never be able to do these activities without the supportive resources from Idaho Public Television," Miller says.
Kids always looked forward to Idaho Public Television's storytimes, she says, and "it was a great way to see literature and books connected to science. When they see that a book can be connected to their world it has a much larger impact."
Miller adds, "Having hands-on activities is so important. It changes everything."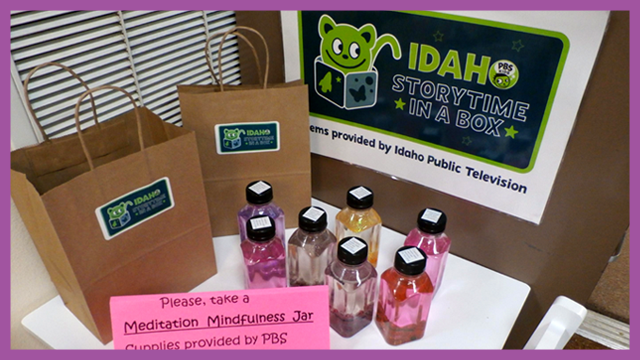 Laurie Willmore

Librarian from Menan, Idaho has 19 years of library experience. She sees IdahoPTV as a necessary resource in her community.
---
"I know these programs work because I see it," says Menan, Idaho, librarian Laurie Willmore.
Idaho Public Television's Storytime in a Box program has been very successful at her library, and "We have had great feedback from patrons," says Willmore.
"It's amazing to hear what families do to adapt an activity kit and make it unique for their own family." For example, the sponge and seeds and spray bottle kit inspired numerous families, and Willmore says she had a blast helping the kids understand agriculture.
"Busy parents don't have time to plan these things, but if they are planned for you it's easier to teach at home," she says." "It's beneficial to the whole community because it brings families to the library, and then they take the lessons elsewhere, to scouts, to their classrooms."
One activity we tried was "meditation in a bottle", we were skeptical at first, I'll admit, but the kids learn about their emotions through a series of steps ultimately creating a bottle that is meditative and used and it works great for calming kids down," Willmore says. Many parents have shared how this simple activity has helped their kids. One says that when it's bedtime, she hands her the meditation in a bottle she made and her child quiets down right away.
"I thought people lost their minds when I saw the meditation in a bottle activity!" says Willmore," but the truth is we have to keep our minds open to other opportunities. After 19 years, I see the educational journey in the library and I can see the programs that work and those that don't work."
Willmore adds, "I never would have thought all these programs were necessary, but when you see kids' eyes light up when they learn something new, when something connects – when you get to witness that it is amazing."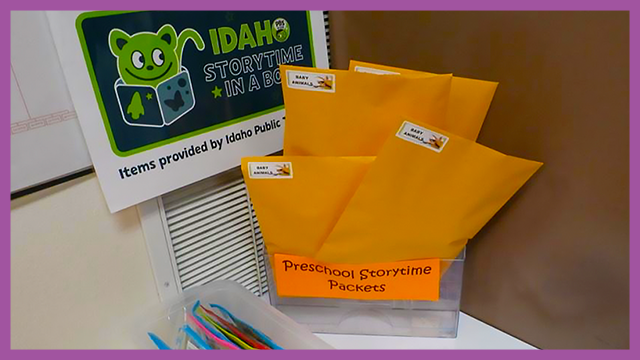 Laurel Dalling

Hamer Public Library Director whose patrons are amazed at the innovative activities Idaho Public Television brought into their small community.
---
"We used the resources to supplement our Preschool Storytime take-home packets. All the links to videos, crafts, activities, and other resources have been greatly appreciated. The read-aloud books helped to set the tone, encourage questions and investigation, and explore the topic. We loved the handy informational flash drives and the paper bags for us to send the supplies.
Our patrons have been amazed at the innovative and fun activities!
We were surprised by how much we loved the meditation in a bottle activity. At first, we were nervous about sending home the bottles, glitter, and glue with the preschoolers. We received many positive comments. From parents: "My little girl just sits and watches all the glitter and shiny things floating around and waits for them to settle. It calms her down." "The bottles are fascinating! I love to watch it, too." her child adds "It helps me calm down inside when I am sad."
We loved, loved, loved these projects!"